The Department of Culture, Arts and Leisure is funding the symposium, entitled: 'Political Thought in Ireland: the Contribution of Ulster-Scots'.
DCAL Minister Carál Ní Chuilín said: "This conference is aimed at those with an interest in local history and the evolution of politics in this part of the island. It offers the possibility of new insights into the connections between our shared cultural heritage in the north.
"Last year, I opened a new Ulster-Scots Hub and visitor centre in Belfast's Cathedral Quarter. Then, I spoke of my hope for increased collaboration, and initiatives which would develop Ulster-Scots history, heritage culture and language for the benefit of the whole community.
"This symposium will provide a platform for ideas, as well a forum for discussion and debate. It also allows for new connections and greater understanding of Ulster-Scots. While it is hosted by Queen's University, it is open to everyone."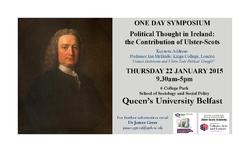 The conference is supported by DCAL's Ministerial Advisory Group on the Ulster-Scots Academy. It will take place in the School of Sociology, Social Policy and Social work at Queen's University, 6 College Park, Belfast on Thursday 22 January 2015, 9.30am – 5pm.
This one-day academic symposium will examine political ideas and competing political allegiances emerging from the Ulster-Scots tradition. The conference will feature discussions covering the history of modern Ireland, from the early role of Presbyterians in the politics of Ireland, the 1798 Rebellion, the complexities of the nineteenth-century, through to partition and beyond.
Various speakers will detail how Ulster-Scots were central not only to the evolution of unionism and loyalism but also to republicanism and nationalism. The keynote speaker, Ian McBride, will deliver a lecture on Francis Hutcheson and Ulster-Scots Political Thought.
Organiser Dr James Greer said: "The conference will focus particularly on the Ulster-Scots dimension to the interaction between Irish, British and international political trends, especially the transatlantic relationship between Ulster and the United States. The relationship between politics and religion will also be a major subject for discussion."
The conference will appeal to anyone interested in the history of modern Ireland and the complex, contested, roles of Ulster-Scots in shaping it. The event is free and all are welcome. For more details contact James Greer.